What's On
Prices of Admission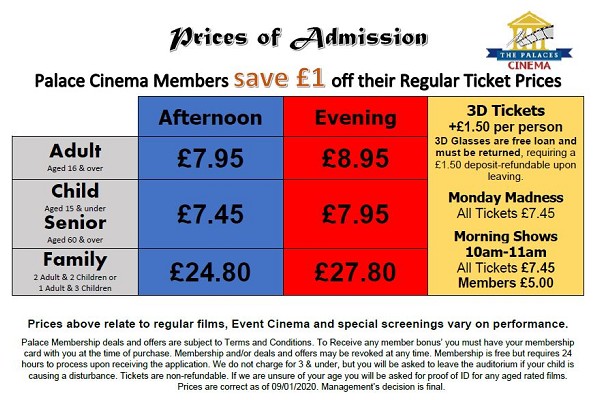 Palace Cinema Membership
Palace Cinema Membership grants you discounts, deals and promotions, including £1 off your regular tickets. Plus membership is free!
You can apply for Cinema Membership at the box-office, via a simple form. Anyone aged 16 or younger require parental permission. Anyone aged 4 and over can apply for Membership.
Please note creating an account when purchasing your tickets does not make you a Palace Cinema Member. This creates a Patron account for online booking only. You can at a later date add Membership once you have applied via the box-office, if you apply for Membership with the same e-mail address.
Once you receive your Membership Card please make sure you bring it with you, or enter your Membership Card number online at the checkout (requires login) to recieve your discounts or deals. You must have your Membership Card on you at the time of ticket purchase to recieve any disounts or deals.